Types of Portable Extinguishers and some of their Applications
ABC
2 ½ lb. – small vehicles (ie: pick-ups, small motor and sailboats)
5 lb. – vehicles; low hazard office/commercial/industrial applications and home use
10 lb. – medium to high-risk industrial; furnace rooms; vehicles visiting remote areas
20 lb. – high risk vehicles (oil trucks) and premises (auto repair, chemical storage, etc)
CO2
5 to 20 lbs. – for electrical/computer equipment and machinery
will not damage equipment as carbon dioxide is a gas and leaves no residue
Water
for use on "type A" class fires only such as wood, paper and fabrics
Class "K"
for use in commercial kitchen to combat cooking oil fires
Difference between Fire Extinguisher Annual and Monthly Inspections
NFPA 10, the Standard for Portable Fire Extinguishers, legally requires that commercial properties have their fire extinguishers checked by a Certified person at least once a year. This is referred to as Annual Maintenance, and is not to be confused with Monthly Inspections, which is a much quicker check of an extinguisher that must be performed at least every 30 days by the customer/occupant of the facility.
The person conducting Monthly Inspections is not required to be certified, and records of the Monthly Inspection can be recorded on the back of the extinguisher's tag or in a book/binder kept in a safe (and hopefully fire-proof) location. *NFPA 10 requires these Inspection records to be kept for a minimum of three years.
* Both the Annual and Monthly Inspections are the customer's responsibility.
Proper Usage of a Fire Extinguisher (P.A.S.S. System)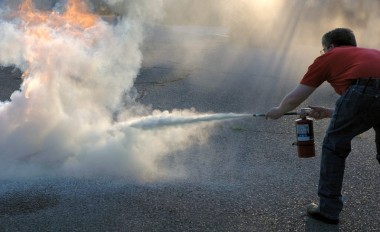 In case of a fire, all employees should immediately evacuate the premises.
When all employees are safely outside, someone comfortable (and hopefully trained) with using a portable fire extinguisher should re-enter the facility to attempt to fight the fire. *Always keep a safe evacuation route behind you in case fire becomes unmanageable and you quickly need to flee.
The following is a basic guide to usage for common extinguisher types (includes ABC type):
P

ull pin from extinguisher – briefly squeeze handles to test that extinguisher will indeed discharge

A

im hose or nozzle at the base of the flames (generally, from a distance of 8–12 feet from fire)

S

queeze handle(s) together to actuate the extinguisher

S

weep hose/nozzle from one side of the fire to the other
* Try to use a continuous motion (not short bursts) when attempting to extinguish the fire.
Choosing the right Type of Extinguisher for you
Some points to consider when choosing the type and size of extinguishers you may need:
The nature of the combustibles at your facility, and potential severity of any resulting fire
Risk or hazard factors present at your facility – low, medium or high
Layout of your facility – travel distance to an extinguisher must not exceed 75 ft and may be as low as 30 ft. Stairs, ease of use, possible chemical interactions with burning materials and operational health concerns all play a part in the decision.
Atmospheric Conditions – wind, drafts, presence of fumes, etc, will also affect choice
This is not an easy decision! Please contact us for a Consultation to help make the best choices for you.